Disney Is Life.
Now, that may sound like a statement from a geeky shut-in person. It's not, at least I don't think I am like that. Whatever your preference, most people grew up with Disney.  So, we have become accustomed to Disney's weird cliches.
Many people are addicted to Disney. You might even have one Disney-addict in your lists of friends too. You just never noticed. However, when you mix Disney and Tumblr, something amazing is born.
These Disney-addict Tumblr users seem to have a more keen eye than others. As they seem to notice many little but important things that we rarely even think of. We might have seen these things but we never actually observed the meaning behind them.
Following are the clever deductions made by awesome Disney fans:
#1 Green is always evil. Go ahead and ask any Disney villain.
#2 That's not something I'd like to imagine.
#3 The most important character.
#4 That just changed my whole world view.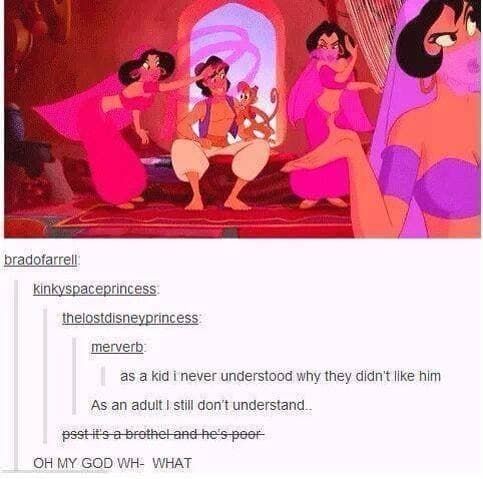 #5 That is the most relatable thing from Disney.
#6 That is the ultimate truth, If I've ever heard one.
#7 Who would want to look at Pocahontas when you have John Smith to look at.
#8 Never trust a stranger with no nipples.
#9 I don't think this restaurant will pass Food Health Inspection.
#10 That sounds like the happiest place on Earth to work.
#11 That kinda ruins Lion King for me.
#12 This just keeps getting more disgusting.
#13 Maybe they should have left the workers as furniture.
#14 'Fool' is the word you need to use to seem evil.
#15 Staring at the wrong place at the right time. #16 The best life lesson right here.