When will he stop?
I mean, his career should have halted entirely when he made a video of a suicide victim in Japan. However, people got over it, and he said that he learned a valuable lesson never to video a suicide victim.
It's not like everybody has common sense and already knows that. This special little snowflake makes so many mistakes and yet his impressionable tween fans forgive him. It's not like he is even funny.
On the contrary, his humor is non-existent.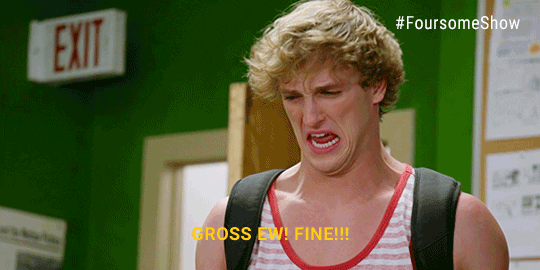 So when he posted on Twitter that he was quitting vlogging…
new vlog…
the end of logan paul vlogs
important that you watch 😕

— Logan Paul (@LoganPaul) April 29, 2018
The comedian Chris was quick to speak his mind.
Not being able to come up with something witty, he resorted to emojis, because why not?
😂😂😂😂😂😂😂😂😂😂😂😂😂😂😂😂😂😂😂😂😂😂😂😂😂😂😂😂😂😂😂😂😂😂😂😂😂😂😂😂😂😂😂😂😂😂😂😂😂😂😂😂😂😂😂😂😂😂😂😂😂😂😂😂😂😂😂😂😂😂😂😂😂😂😂😂😂😂😂😂😂😂😂😂😂😂😂😂😂😂😂😂😂😂😂😂😂😂😂😂😂😂😂😂😂😂😂😂 im laughing cuz now i know why your comedy career took a dive https://t.co/iZyct1NVfd

— Logan Paul (@LoganPaul) May 1, 2018
However, that is when Chris let loose, and shots were fired.
I honestly thought not filming a suicide victim was common decency but guess not everybody knows that.
no thanks. i've grown and i've learned that the filming of a suicide victim is both heartless and insensitive https://t.co/oIw9bFdvmN

— Logan Paul (@LoganPaul) May 1, 2018
But Logan Paul couldn't resist complimenting him either. To be honest, Chris was quite witty.
Chris didn't stop there though and continued to roast Logan Paul.
Logan kind of roasted himself trying to roast Chris.
idk what's worse, being the shunned vlogger or being the 38 year old comedian arguing with the shunned vlogger over twitter https://t.co/rl8e8mpyLt

— Logan Paul (@LoganPaul) May 1, 2018
Maybe Logan Paul should really stop with the vlogging, comedy, and anything else because he always makes it worse. Comment on below and let us know what you think about Logan Paul.