Everybody should know a little bit more about how anxiety works. IN REAL LIFE!
Social anxiety disorder is also known as the social phobia. It Is a psychiatric disorder. It is an acute state where you have a fear of being embarrassed or humiliated in public. Unlike some other common phobias, this one can seriously affect the lifestyle of a person. Concerning how our lives work now; social gatherings, formal meetings, public performances and generally interacting with other people, it can be really tough to move in the society.
People with social anxiety are commonly mistaken as being introverts, aloof, shy, backward, too quiet or unfriendly. While in reality, they actually do want to make friends and be open and involved in social and public events but having social anxiety disorder prevents them from doing so.
As studies have shown, surprisingly, women are more prone to having social anxiety as compared to men somehow. And YouTuber and Twitter user Jessie Paige has explained it to us quite well how social anxiety works in women in real life. So read on!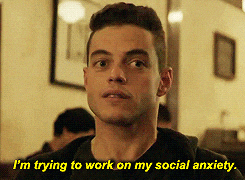 Here you go. Now you'll have a better idea of what social anxiety actually feels like.
social anxiety is not

"omggg I love netflix and I hate everyone"

it's

– longing to go to social situations that are easy for other people
– wanting to use your voice, but feeling stifled
– feeling trapped in your thoughts

and so much more

— Jessie Paege (@jessiepaege) April 9, 2018
And more people joined in, relating to the matter.
Anxiety is staying up till four in the morning thinking about how situations could have differed, had you just changed one thing. Anxiety is falling down the rabbit hole of endless "what ifs" and scenarios for all the bad things that *could* happen.

— Morgan Elaine (@EmmySheetz) April 9, 2018
Anxiety is struggling to catch your breath while you try to assess every little thing "accordingly." Anxiety is nail-biting, hair-pulling, continuous chills & so much more while you try to figure out what the hell you're going to do. There's no band-aid to make it better.—-

— Morgan Elaine (@EmmySheetz) April 9, 2018
The Sinking feeling of being all alone. Sympathetic much?
It's also

-not being able to stop obsessing over how people see you
-obsessing over your appearance and behavior
-kicking yourself for anything you say/do that didn't go over well
-doing anything in your power to not appear inferior to others https://t.co/bgzArrDfrv

— indi @ ttrpg bender (@xoindigold) April 10, 2018
It's heartbreaking.
Ugh. Does that happen to everyone?!
I feel you.
Needing a ride home, being offered a ride home by a class mate, but turning it down because you can't handle the small talk while in the car

— 💓💜💙michelle💙💜💓 (@mboyette0616201) April 9, 2018
And regretting it later and scolding yourself about it.
When you just keep thinking over and over again whether you should do it or not…
And
-scared to talk to normal people like your friends or family
-constantly feeling like youre going to say the wrong thing
-and sometimes not answering the phone even tho you want to

— wil🏳‍🌈 (@tylerssweater) April 9, 2018
Telling people with anxiety disorder to stop being anxious. WOW! What advice!
It doesn't just go away, and when I hear people tell me or another anxiety sufferer to "stop being anxious," it makes me livid. You almost find yourself apologizing for the things you can't control, and that's not okay. It's OKAY to not be okay.

— Morgan Elaine (@EmmySheetz) April 9, 2018
ALL THE FREAKING TIME!
social anxiety in media: "I'm just so painfully shy, it's adorable"
actual people with social anxiety: "I can't really enjoy myself in this social situation because I am literally terrified of monopolizing the conversation or saying the wrong thing" https://t.co/wzjc5LA8yi

— Catie Hennessey (@catiemolly) April 10, 2018
In short, just masking your feelings and your thoughts and pretending to be someone you're not.
It can also be:
•Doing the social thing but crying for hours afterward
•Being really sociable in certain settings but awful in others
•Putting on an emotional mask outside of the house

Not everyone who has Social Anxiety acts like it! It's still serious. https://t.co/vOcXY32sLm

— Gayfraid: The Ultimate Fusion (@Pixeljade) April 10, 2018
Regretting every small decision you make.
Sometimes you can have an easy enough conversation with someone, but overanalyse later, convincing yourself that you're horrible and embarrassing at conversation, and should never attempt it unless you absolutely have to. https://t.co/bopON6zYOf

— Natalie Hughes 🎶 (@myheartofmusic) April 10, 2018
And to conclude it… It's just the worse really.
just like

– your leg can break
– you can catch a cold
– you can get the flu

your brain can need also need healing. Mental health treatment is important.

— Jessie Paege (@jessiepaege) April 10, 2018
Would you agree with what Paige has pointed out? Do you have anything to share with others about how you feel when those panic attacks hit? Do comment below because you matter as much as anyone else!