Judge Judy let a dog decide who his rightful owner is and it was an emotional roller coaster ride!
The unconditional love between an owner and his dog cannot be explained. There is no companionship like it. Even Judge Judy, the scandalously stringent, knows this to be true.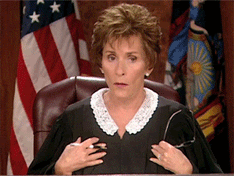 In a recent episode of Judge Judy, the judge oversaw a tense custody battle between two pet owners.
And the audience couldn't hold back their tears. In an episode of her self titled show, two pet owners accused a woman of stealing their dog. However, the defendant debunked the claim and said that she bought the dog from a legal vendor on the street.
Till date – this was Judy's toughest case yet.
Being her typical bad-ass self, Judy decided to take a verdict from the four legged companion himself. The dog started flipping out upon the sight of his real owners. And before anyone knew it – Judge Judy saved the day once again!
Naturally, the viewers couldn't keep their emotions at bay!
Judge Judy should run against Trump in 2020 and really keep the freak show going

— Soap (@SofiaRansom) August 15, 2017
Check out the full video below: